Here's A Simple Guide For Your Next Trip
Like most things in life travelling is one of those activities that you get better at the more you do it. For the person considering getting on a plane for the very first time it can be very easy to fall into the trap of over preparing or not preparing enough. Our guide offers must-know advice for any traveler!
Early Bird Discounts
Spontaneity sounds exciting and fun but in reality can end up costing you. The closer it gets to peak tourist season the more expensive plane tickets and hotel bookings will be. Start with bookings at least two months to get the best deals! You can even pay for some activities in advance and avoid the last minute rush for tickets so be sure to do your research.
Plan your route
It's very tempting to grab a travel guide and follow it religiously, rely on professional tour services or to just see how it goes when you reach your destination. All of these options, though they sound easy, won't give you the full experience of being somewhere new. Grab a notebook and get cracking on Google. Make a list of places and events you must see and be sure to mark them on Google maps. Know what you want to see but be sure to keep some time free for just exploring!
Beware the scams
Speaking of tour services it's important to know that they are sometimes tourist traps. If you're taking a tour service, be sure to look up reviews. Speak to your hotel for advice on which tours are legit and which might be a waste of your money. It's actually smarter to avoid tour buses and the like as they take commission from shopping stores to bring them busloads of tourists ready to spend money. These tour guides will rush you away from all the landmarks you want to enjoy and allot the most time for shopping!
Get insured
Travel insurance is crucial! It's inexpensive and it's always best to be prepared on the off chance you get sick, injured or your property is stolen. It's better to be safe then be caught off guard!
Know the lingo
English is a global language and you will for the most part be able to rely on the people around you to speak it and be able to understand basic things especially if you're travelling to a popular tourist destination. However, it's always best to know a few key phrases like 'Hello', 'Thank you' and 'Where is the train station?' Make things easy by writing down the phrases you'd think you'd need most or programming them onto your phone.
Go light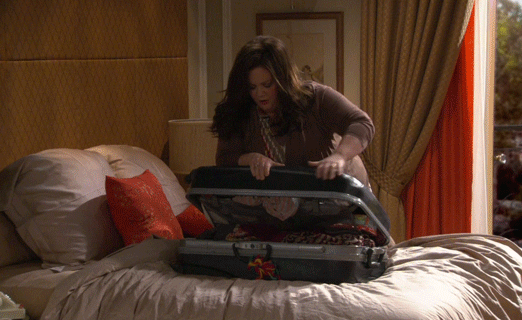 Don't over pack! Only pack what you absolutely need. Packing a lot of cute outfits and lugging around a giant suitcase simply isn't practical! Be sure to know the weight allowance of your plane.  For a two week or so vacation it's best only to travel with carryon baggage as you'll be able to move from place to place easier and will reduce the time spent in an airport waiting at baggage claim. Remember to keep space to bring back all the things you're going to buy.
Be smart
Carry photocopies of all essential documents like your visa, passport and identification. Before heading out for a day of sightseeing tell your hotel where you're going and whether you're planning to be out for dinner. This way in case you get lost there will be someone who knows to look for you or at worst informs the local police. No one wants to stress when they're on vacation but once you handle everything and travel smart you'll find that relaxing and enjoying yourself will be much easier!
Bon voyage!