The Met ball is one of the most anticipated events of the international fashion industry. Every year celebrities put their best look forward and are known to step out of the box with their outfits and styling which is done according to the theme of the year.
Bollywood recently got their representation at the Met Ball as Priyanka Chopra and Deepika Padukone walked the red carpet for the auspicious event for the first time in 2017. But were they able to do justice to the grand event? Um.. not quite. The stars were unable to please the audiences with their underwhelming dressing in 2017 and unfortunately, this year was no different.
Deepika Padukone:
Deepika Padukone showed up at the Met last year in an ivory satin gown by Tommy Hilfiger with minimal embellishments and looked way underdressed. Her look although clean and pretty was not in accordance with the theme and seemed a little too simple.
This year Deepika went with a fiery red gown by Prabal Gaurang but was still unable to woo the audiences. The actress seemed to have played it too safe and failed to make a statement at the ball yet again.
Priyanka Chopra:
The Baywatch star Priyanka has been a bit more experimental with her looks compared to her only other Bollywood associate at the event, however, she too failed to make it to the list of best dressed.
Last year Priyanka chose to wear what seemed like the most over-sized camel colored trench coat by Ralph Lauren. Priyanka's look was undoubtedly bold but also unflattering at the same time.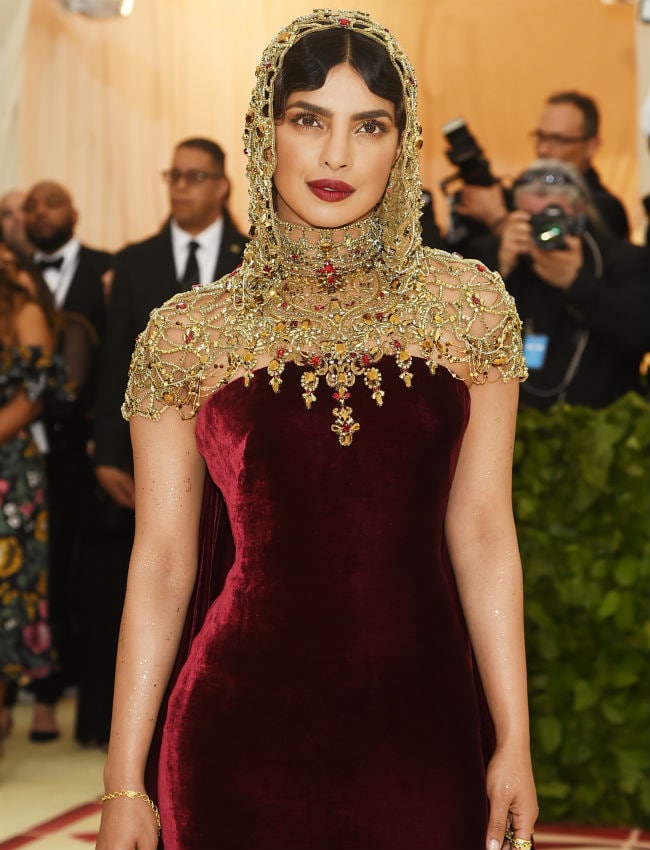 For 2018 Met Gala the actress chose to go an extra mile with her dressing but still fell way behind the mark. Priyanka wore a red velvet gown by Ralph Lauren with a bejeweled hood.
Even though she tried quite hard to follow the theme by channeling mother Teresa with the hood over her head and incorporate her Indian culture to her western gown with those embellishments, her dress, unfortunately, looked simply awful.
While we appreciate the Bollywood beauties for the effort they made it is quite clear that both of them require substantial Met experience before they're able to meet the event's standard.