Salads That Are Worth Trying In K-Town
If you're a real foodie at heart you wouldn't think twice when trying out something new every now and then. However, we're here to talk about a certain kind of food. Salads! Landing on a perfect salad is not as simple as it seems, you need to be positive that it fits best to your needs and no matter how much people label it as ghaans phoos; you know at heart that you love the perfect blend of flavors and health in each bite.
So, here we present you the best Salads in K-Town.
Thai Beef Salad at Chop Chop Wok
If you're a Chinese lover, you probably have an undying love for this place. Onions, cucumbers, beans sprouts tossed with Nam Jim sauce – this salad is crunchy, spicy and if you haven't tried it yet. Give it a shot!
Ceaser Salad at Espresso
Something basic never goes out of style or flavor. Fresh iceberg served with juicy chicken breast, tomatoes and olives and some killer dressing just takes the cake. Also, if you're home after a long day and intend to Netflix and chill with a bowl of a Ceaser Salad from Espresso, you won't regret it.
Fried Feta Barley at Mews
Let us tell you that this is going to be your favorite thing from their menu. The blend of warm feta with oranges and herbs is to die for! It's chewy and you'll love it.
Pear and Walnut Salad at Lal's
Not just terrific with desserts, Lal's also goes an extra mile to suffice our savory needs. A combination of sliced pears, rocket leaves and parmesan is just terrific. Also, the candied walnuts are like the highlight of this. The salad is not overly sweet and the balsamic olive oil dressing adds a touch of acidity to the varying flavors.
The Quinoa and Cranberry Salad at Xander's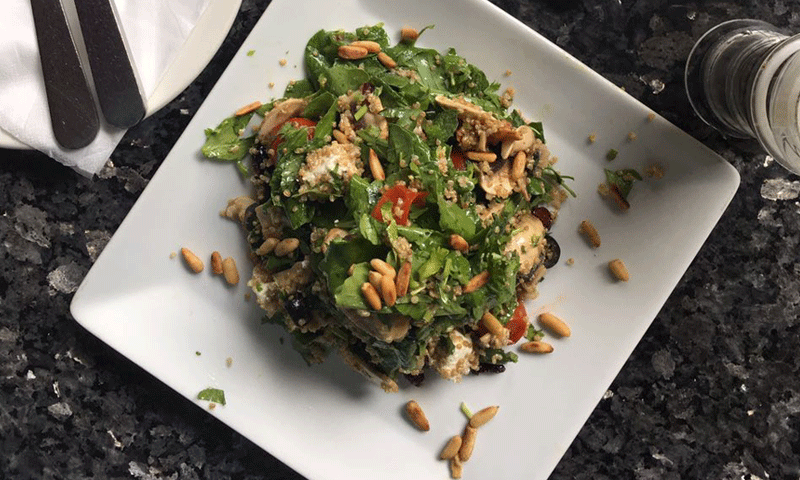 If you're looking for something light then this isn't for you. Though, it's a salad but trust us when we tell you it's like a full meal! Served with quinoa, rocket, feta and baked cherry tomatoes and sprinkled with a generous amount of cranberries and pine nuts, this healthy salad should be on your list when you head to Xander's next time.
Salade Au Roquefort at Café Flo
Creamy and rich Roquefort is paired with peppery rocket, mushrooms, caramelized walnuts in the Salade Au Roquefort at Café Flo. Topped with a delicious raspberry dressing, the salad makes a perfect, light lunch!
The Roast Beef & Quinoa Salad at the Patio
If you're a beef lover then this salad might become your new obsession! Leafy greens, quinoa and roast beef, topped with Dijon dressing – this delicious salad is pretty damn good!
Nutty Granola Salad at the Deli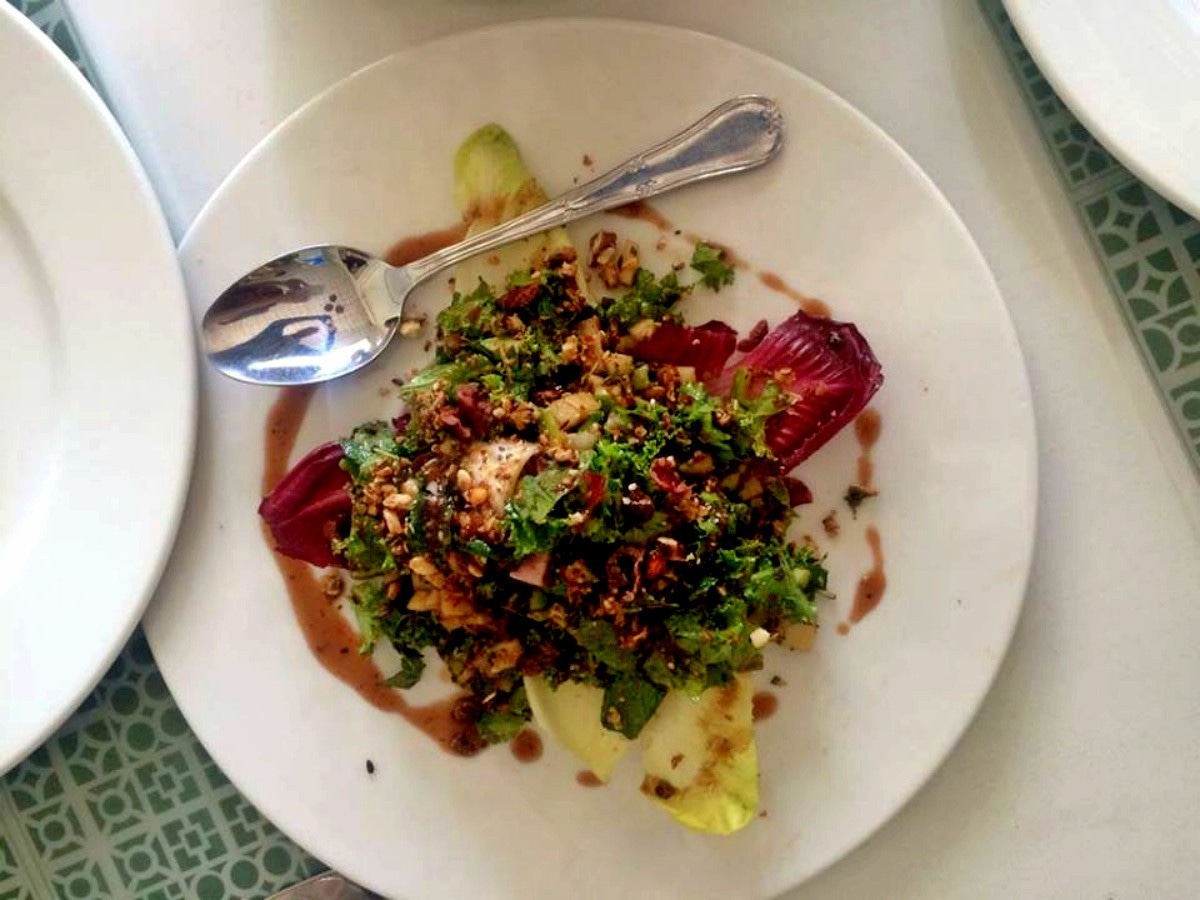 This place offers some pretty amazing food, definitely tops our list. Nutty granola salad is a unique offering we adore. Kale, apple and cranberries are tossed in with the nutty granola, giving the salad a very sweet yet acidic flavor.
Vietnamese Salad at Chatterbox
Another one that makes the list is this mouthwatering blend of health and taste. The greens in the salad provide texture while the prawns give it a crunch. We're obsessed with the sweet chili saucy seasoning of the prawns, plus the sauce makes for a nice salad dressing.
Asian Crunchy Salad at SOI
SOI already serves some quality food and this salad is just another plus. Packed with vegetables like carrots and cucumbers, which are covered in crispy noodles and topped with peanuts, this salad is a must try.
Whole Burrata with figs and sweet greens at Okra
Made with Mozzarella and cream, Burrata is creamier, softer and tastes divine. Served with figs and greens it makes a delicious and satisfying meal.
Asian Brown Rice Salad from Eatfit
Eatfit is known for their healthy food and scrumptious chocolate pudding. However, this salad is wholesome and all the ingredients, like the water chestnuts, sesame seeds and bell peppers are simply divine!
Chicken and pesto Salad at FLOC
One thing we love about FLOC is that they keep their ingredients fresh and this salad is served with rotisserie styled chicken in small quantities and uses it for their dishes like the Chicken and Pesto Salad with apples and cherries.