Maniac trailer: Emma Stone New Netflix Series Is Intriguing
Starring Emma Stone and Jonah Hill, Netflix's upcoming limited series is the story of a few strangers thrown in together for a pharmaceutical trial. The teaser of the series got the audience intrigued and this trailer further talks about the plot of the series. Directed by True Detective director, the cast also includes Sally Feild, Just Theroux, Julia Garne and Jemima Kirke.
Justin Theroux plays the scientist who is conducting this drug trial that claims to understand the structure of the mind and can also alter it. He claims that this isn't therapy but in fact, science.
We see the subjects of the trial locked in and how this experiment is playing tricks with their mind. The subjects see themselves in alternate realities together but their core reality stays the same. Emma Stone's character calls it "multi-reality brain magic shit" and we then see them in alternate realities that are starkly different from the reality they are currently living in. The trailer also shows that something is not going as per plan and that could raise conflict in the series.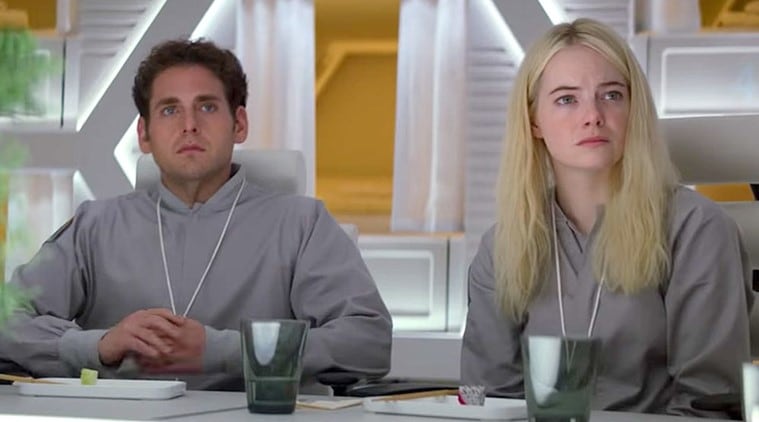 The summary of the show says that Maniac is set in a world that is somewhat like our own and in a time that is pretty much like ours. Emma Stone plays Annie Landsberg who is fixated on her broken relationships with her mother and her sister. Jonah Hill plays Owen Milgrim who has struggled his whole life with a disputed diagnosis of schizophrenia.
Alongside Emma Stone, Jonah Hill and Justin Theroux, Maniac also stars Sally Field. The limited series created by Cary Joji Fukunaga starts streaming from September 21.
Have a look at the trailer and decide for yourself if you will be following the show or not! We definitely will be.