Nick Jonas sat down for an interview on The Tonight Show Starring Jimmy Fallon on Friday (September 7) in New York City. The 26-year-old singer, who brought along his fiancee Priyanka Chopra to the interview, opened up about his engagement and how they met.
"We met through a friend, so we got connected first over text and we started talking for a while and it was about six months before we met up in person," he told Jimmy Fallon. The two sparked romance rumors after attending the Met Gala together in 2017.
"Our lives were kind of taking us in different places," Nick added. "The thing that is funny, people ask us, both in interview settings and in private, 'Are you guys seeing each other?' And the answer was no. And people thought we were being coy, and so did we, until we cut to now [and] we're engaged, so the story sort of wrote itself."
"But we then met up a couple months ago, I think five months ago now, and it was kind of immediate. I think we just knew it was right and jumped right in and we're very happy," the newly engaged said.
Jonas and Chopra who got engaged over the summer held off on publicly confirming the news until both of their families united in Mumbai.
Nick revealed details of the couple's recent trip to India. He said after they got engaged, they traveled to Chopra's home country where they held a roka ceremony.
The Jealous singer explained, "A roka ceremony is a confirmation from both sides of the family that they approve of the engagement." He added that the two of them left the ceremony "full of joy" and that his parents were "blown away" by the love that everyone shared.
The Levels singer opened up that the celebration was "a little different from Jersey" – Jonas' home town – but the time away from the spotlight was satisfying. "For Priyanka and I, I think it was just nice to have that time with the family first. And then have that private moment to share with the world afterwards."
But the 26 year old's millennial side showed a bit, as he said despite a beautiful ceremony, their engagement felt real once it was on Instagram.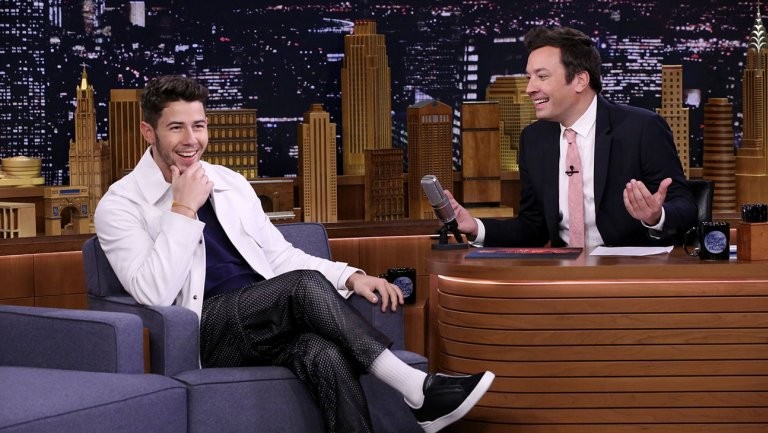 Host of the show, Jimmy Fallon asked Jonas' if he and Chopra had a couple nickname. To which Chopra, who was part of the audience replied, "Prick." Jonas then continued that his fiancee likes "Prick" but he does not.